Photography is a craft best left to the experts. If you're a skilled photographer, then you can potentially earn a steady flow of income for your business.
This why you'll find 63% of photographers are self-employed. There's nothing like being your own boss and setting your own rates.
Unfortunately, you have to be a true hustler to make your photography business last. Only about 40% of photography startups last past their first year. And only 25% make it past their second year and by the third year, only 15% remain.
But don't let this discourage you. With the right approach and the best tools, you can improve the chances of keeping your photography business open.
If you can portray your brand as a professional, you'll have a higher chance at success. This includes delivering beautiful photography invoices to your clients.
Let's talk more about how you should be creating your photography invoice.
Finding Quality Invoicing Software
You won't get far if you're using Microsoft Office or other document tools to create invoices. While these worked for a time, they're simply outdated.
Today, you need methods that enable you to not only create invoices, but track, and manage them as well. With invoicing software like Invoicely, you can create, send, and even receive payments via the platform.
This will prove your photography business is professional and convenient, which can help with customer satisfaction. When you have satisfied customers, you get referrals and repeat business.
Having a way to organize your invoices is key, especially since a lot of photographers forego tracking their expenses. This is necessary if you're going to charge accordingly and earn a decent living.
Online invoicing software help to automate the invoicing process. You can also take advantage of other great features, such as financial reports, expense tracking, and setting up recurring invoices.
Setting Fair Rates for Your Photography Services
The rates you charge your clients will vary based on the complexity of the work and how long it takes. You'll find it costs a lot more to capture photos of wild animals than it does for capturing wedding photos.
It's important to factor in how long it'll take you to complete the project request. One photo of a rare species is worth a lot more than a photo album of professional baby pictures.
But whether you're out on safari adventures or hosting photo shoots in a local studio, you need to get a fair rate.
Some of the factors you should consider when setting them includes your location, quality and speed of service, competition, and experience. Even your age should come into consideration – folks are willing to pay higher for an older and more experienced photographer.
The average age of photographers is 38 years old. And the average salary sits at around $36,600. You'll have to do careful research into your target customer and local competition to see what rate you can charge.
Then next, you have to decide how you're going to charge customers – by the hour (with a max limit), lump sum, or by the time it takes to complete the project plus expenses associated with getting it done.
If you're required to drive miles or do a lot of traveling to take the photos you're hired to take, then it makes sense to go with the latter.
Once you know how you'll charge and at what rate, you can set up your invoices accordingly.
Including Payment Terms in Your Photography Invoice
Never send out an invoice without including terms of service and payment. In doing so, you're setting yourself up for disputes, non-payments, and late payments.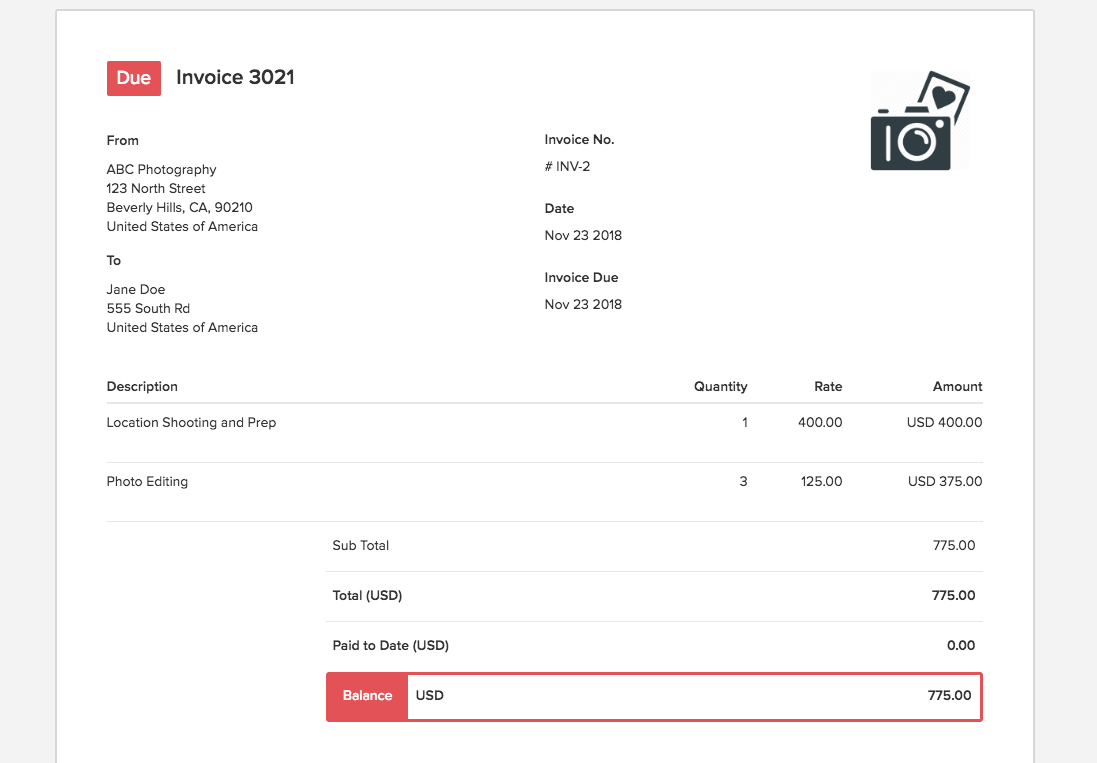 There are certain terms you want to cover, which you should include within your invoice. Make sure to write this clearly and concisely so it's easy to understand.
And place it where it's visible and in a format that's legible.
Some of the terms you want to include are:
Whether you require upfront payment or payment upon project completion
How much time customers have to pay the invoice
Late fees that you'll apply
Types of payment you accept
Whether you'll deliver the project before or after you receive payment
The purpose of these terms is to ensure everyone's on the same page. It's good to go over them before you agree to take a project.
Then you can include it on your photography invoice to ensure customers are reminded of your terms. And don't worry, they're not set in stone.
You can test out different terms and adjust them based on your business's needs.
Designing Invoices that Are Attractive and Professional
When you're working with a quality invoicing platform, you can ensure all of your invoices come out beautiful and professional. You want your photography invoices to represent your brand.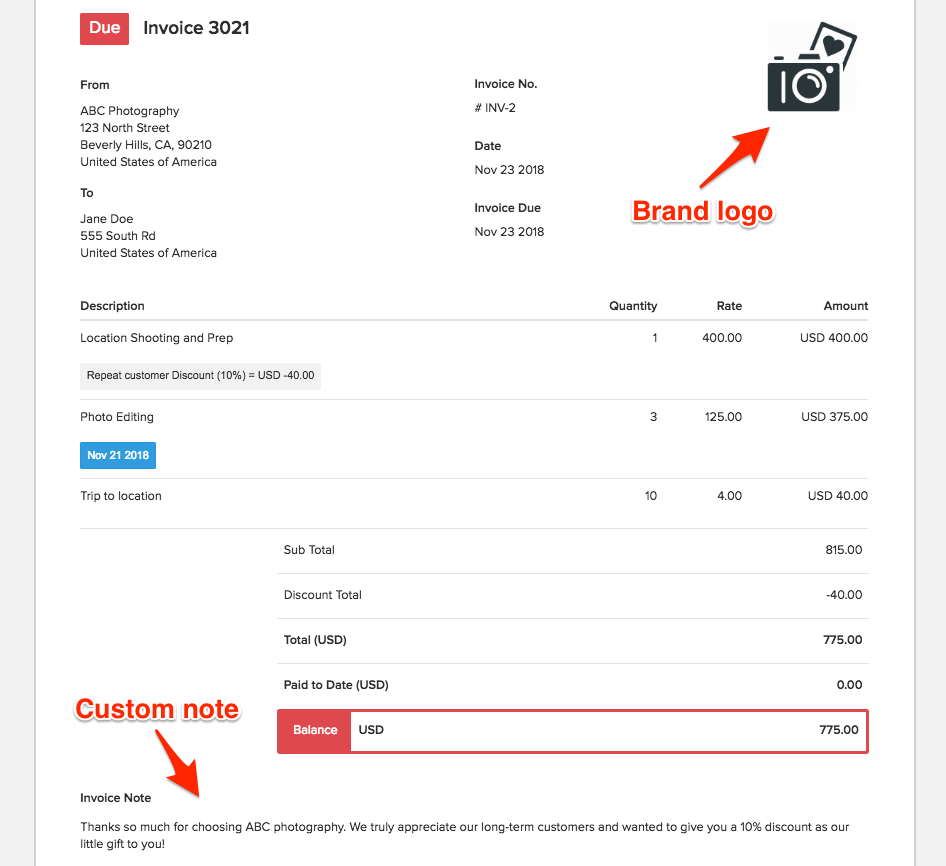 So it's a good idea to include your company colors and logo.
And what's better is that you don't have to be a designer to pull this off. The platform you choose should offer a variety of templates to choose from.
Then you can save the one you like to quickly create invoices on the whim. Plus, you can send them via email so they're received right away.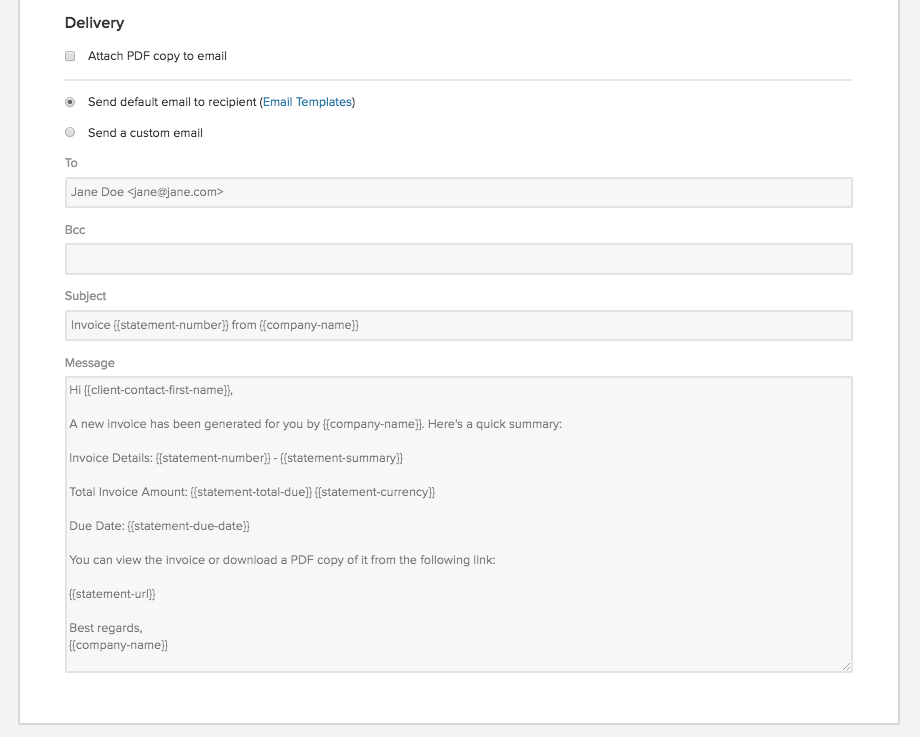 Your invoice should contain important information about the customer, project, and your business. For example, it should include your business name, phone number, and address.
Typically, this is in the top corner of the invoice. You should also include the name of the customer, their address, and phone number.
The invoice itself should be itemized so the customer knows exactly what you're charging them for. This is important whether you charge hourly or by the project.
Once customers receive your invoice, they can click and pay within minutes. This boosts your revenue because it removes delays associated with complicated or confusing payment processes.
Monitoring Your Business Invoices
You're a busy photographer, which is great for business. But what isn't great for business is not carefully managing your invoices.
Not paying attention to which invoices are paid and which aren't can run your company into the ground. This can be difficult to do when you're using paper-based or documents for invoicing.
With invoicing software, you can easily keep track of all the pending invoices. This way, you can reach out to customers if their payments are late.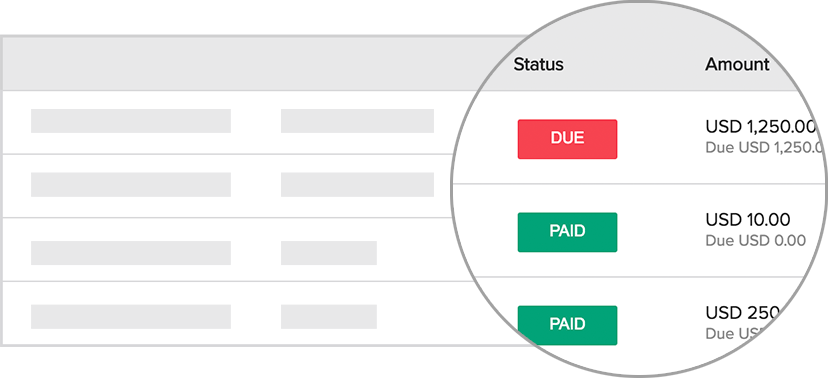 You can set it up so that customers are sent payment reminders periodically. Then if this doesn't work, you can contact them personally.
Your invoicing records will also come in handy when it comes time to do your taxes. Knowing all of your income and expenses will ensure you fill out your tax return as accurately as possible.
Don't Forget to Invoice for These Things
When you first start out, it's hard to determine which expenses to charge for. You don't want to end up in a hole because you didn't charge your clients accordingly.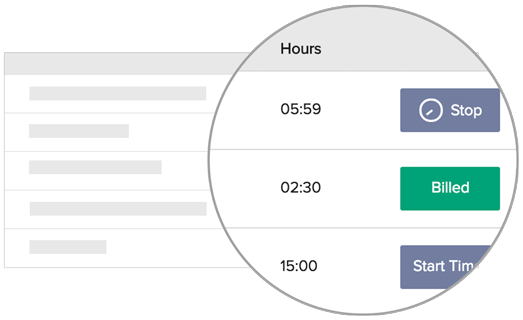 So some of the things you want to track expenses for include:
Gas mileage
Hotel stays
Special materials/props
Location bookings
And other project-related costs
Don't be afraid to tack on expenses as they pile on, especially if its at the request of the customer. You're a professional photographer so start charging like one.
Just make sure to be transparent about your rate increase for the project before taking on the expense.
It's also good practice to keep all of your receipts to show proof of your expenses. This will come in handy during invoicing disputes and for tax purposes.
Know Which Taxes You're Entitled to Pay
Depending on where you are in the nation, you may have to pay both federal and state income tax. Then you may also have to pay a state sales tax.
Knowing all of this will help you to determine your rates so you continue to turn a profit for your business.
As a business professional, you'll have to withhold all your own taxes so you can pay them on time. You can either pay them quarterly or once a year during tax season.
Establishing a Professional Photography Business
Your business setup is critical to the success of your photography business. This means setting up all your rates and invoicing systems.
At the end of the day, your business relies on profits to stay open. So you need to take your finances serious so your customers will take you serious.
This will decrease the risk of non-payments and late payments.
Hopefully, these tips help you to establish yourself as a professional photographer and earn the company of long-lasting customers.
Planning on opening up your on photography company? How do you plan to charge your customers? Let us know in the comments!