Running a handyman service is like running any other type of company. You need a way to organize your finances so you can stay in business for the long-term.
This means finding tools you can use to track expenses and customer invoices. Now, if you're new to operating a handyman service, then you may need a few pointers in this area.
Knowing how much to charge for different size jobs and creating professional invoices are all critical to your success. So in this guide, we'll focus on how to operate a handyman business and properly invoice your clients for on-time payments.
Let's take a closer look.
Why Your Invoice Matters
As a handyman, you want to present yourself as a business professional. This way, you can gain respect from your clientele and get on-time payments.
Presentation is everything, even when it comes to the invoices you deliver after you complete jobs.
When they receive your invoice, it should showcase your brand as a business, not a handyman doing a side job. So forgo the use of handwritten estimates and bills.
There are tools you can use, such as Invoicely, to create beautiful invoices and bills for your customers.
How to Design Your Handyman Invoice
Your invoices should set your business apart from competition – so be sure to include your brand colors and logo.
Other important details to include are your business name, phone number, and address.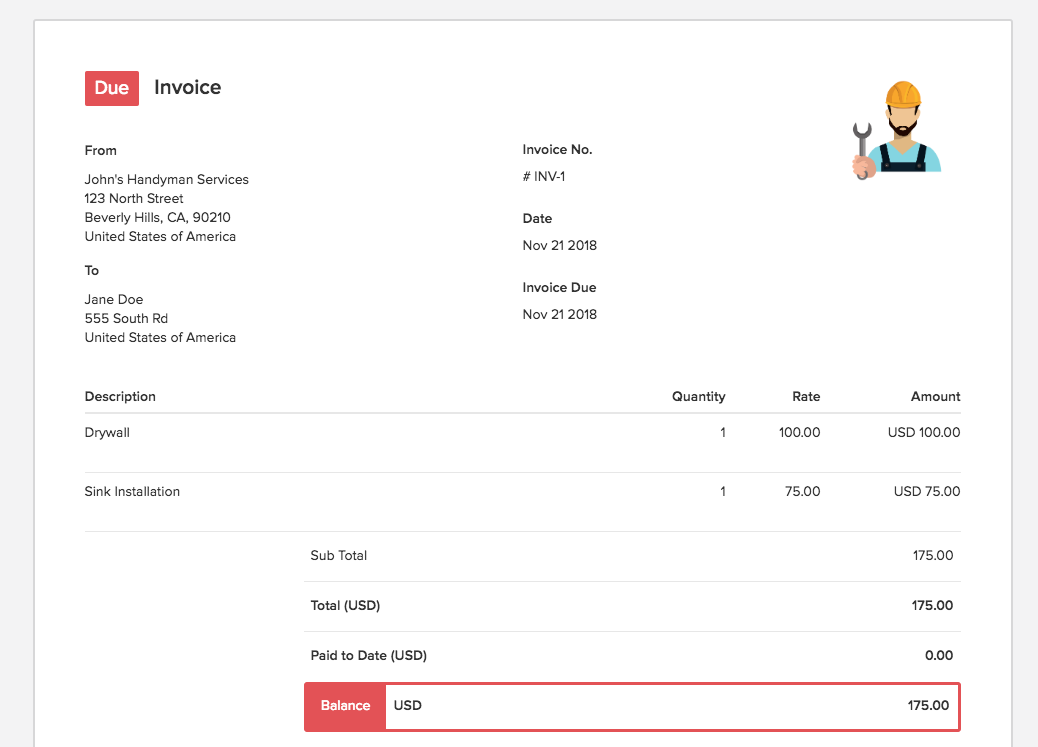 It's best to create an itemized list of the services and products you're charging clients for. This way, you won't have to worry about disputes when it comes time to pay.
At the bottom of the invoice, there should be a line for the customer's signature. This signifies that they agree with the invoice. Make sure to keep a copy for yourself and leave one for the customer.
There are various templates you can use or you can design your own from scratch. It's a good idea to keep the same look so it's consistent with your brand.
You can then either deliver invoices in person or by mail. Or if you want a more modern approach to invoicing, then you may want to use a digital platform instead.
This will make it easier to manage all of your invoices in one place and monitor whether they're pending or paid.
Whatever you decide to do, be sure to have a system in place that's seamless for both you and your customers.
Building Your Customer Management System
In the handyman industry, it's common to get repeat business from your customers. Of course, this depends on how well of a job you perform.
If you're serious about growing your handyman business into maybe a construction firm one day, then you'll need a proper customer management system in place.
The purpose of this system is to keep track of all your customers. This will contain all of their details, including name, contact phone number, email, address, and services provided.
Then you can tie this with your invoicing system so you can easily send a bill your clients can pay at the press of a button. This system will detail which customers have appointments, outstanding bills, and more.
The system you choose doesn't have to be a complex one either. You can find some estimating apps that come with CMS systems to keep track of your customer's details.
Being Flexible with Payments
Having a professional invoice and customer management system is a great start to building a successful handyman business. But don't stop there.
Now, you need a way to accept multiple forms of payments from customers. This way, you can make it as easy as possible for your clients to take care of their invoices quickly.
Obviously, you want to have the ability to accept debit and credit card payments. Now, there are several ways you can do so.
For example, you can download a credit card app to insert customer's card numbers directly. Or you can buy a card swipe machine.
Platforms like PayPal have a credit card reader you can use to accept plastic payments.
If you decide to go with an invoicing software, choose one that allows you to accept online payments from various platforms. Some of the most popular include PayPal, Stripe, and Venmo.
This will enable customers to make payments online.
Creating a System for On-Time Payments
One of the problems handymen run into is getting paid on time. There are various reasons why delays occur.
For instance, it may be due to you not accepting certain payment forms. Or maybe your invoice was lost in the mail and was never received.
This is why you want a system in place that makes it easier for your customers to pay on time.
Organization and clear terms are key here. It's important to create invoices that detail the terms of payment.
This should include the payment due date and terms for late payment. For example, you can charge a flat rate fee for payments that are late.
Another option to encourage on-time payments is to offer an incentive. You can give customers a discount when payments are made in advance or on time.
Whatever terms you set up, make sure they're clear and easy to find on your invoice.
Providing Accurate Estimates
When you go to a customer's property, they're expecting to receive an estimate that's as close to accurate as possible.
In doing so, you can build trust and establish your business as reliable. But how do you go about issuing accurate estimates?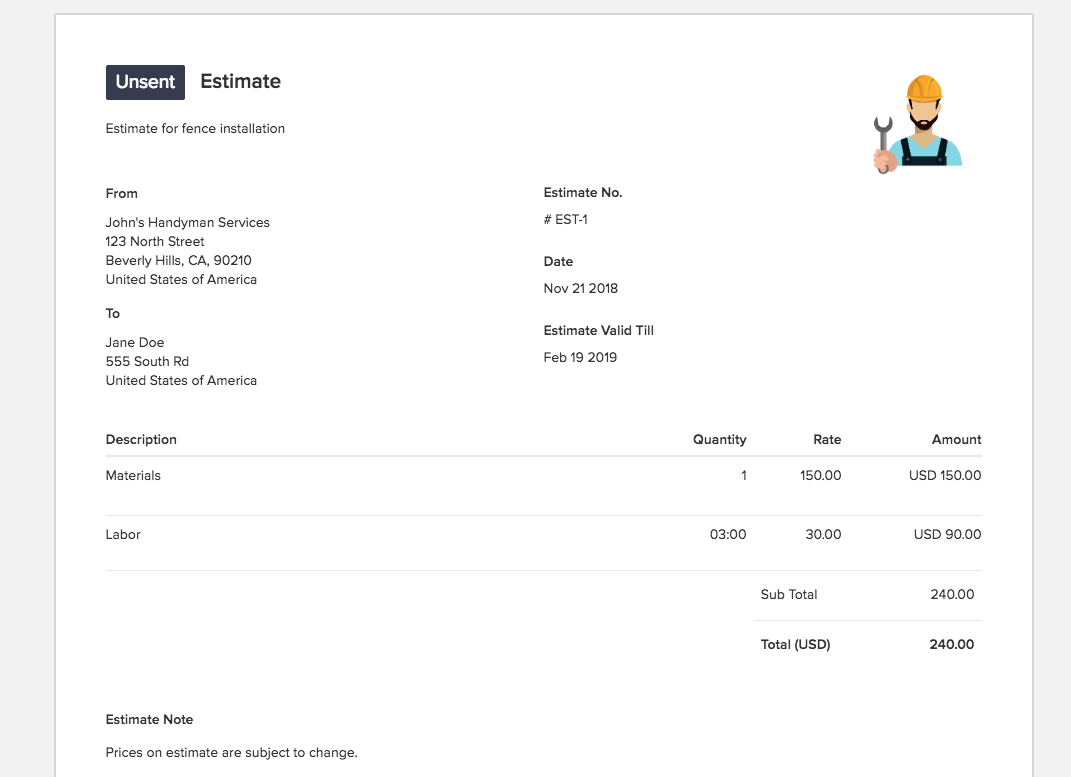 Well, it takes the right tools to get the job done right. Taking notes during your consultations is key. But you don't need a pen and paper.
Instead, you can use a mobile app on your smartphone or tablet. Some invoicing tools allow you to take photos, add notes, and even send notifications to employees.
You can use the data you collect to create an estimate. Use the internet to look up pricing for materials or call your supplier to get better deals for your customers.
Quoting Fair Rates to Customers
If you're worried about overcharging or undercharging in your handyman invoice, then there are several factors to consider.
This includes your experience level and the size of the job.
For instance, small jobs take one to two hours to complete. Some examples of small jobs include fixing a water spout in the bathroom or repairing a toilet.
Then a medium job can take between two and four hours, such as when installing a new mailbox.
Large jobs can last anywhere from four hours to a couple of day, depending on the complexity of the job. Examples of large handyman jobs include adding locks to all interior doors, adding new stairs, and transforming a closet with shoe shelves and cubbies (all for one customer).
What you charge for each job depends on the size. For instance some handymen charge:
Small jobs: $77 to $154
Medium jobs: $154 to $308
Large jobs: $308+
These are the average rates handymen charge, so only use this as a guide. Don't be afraid to hire a contractor if the jobs requires heavy machinery or that cost $500+ daily.
Invoicing Hourly vs Per Project
Normally, handymen charge by the hour. The average rate is between $60 and $65 per hour, but national average is around $77/hr.
Professionals with many years of experience and a track record tend to charge even more, such as $125 per hour. How much you charge will come down to how many years you've been in business.
For instance, if you're just starting out, then you should charge around $60/hr. You can raise your rate over time and based on the complexity of a job, especially if it'll require the help of contractors.
Now, there are other ways you can charge customers. Some decide to do an hourly charge, while others charge by the job. Both have their pros and cons.
Hourly allows you to get fairly compensated if the job runs longer than expected. Yet, this may turn off customers who weren't prepared to pay more than you estimated.
On the other hand, project rates are great for customers so they can budget accordingly. But if the job extends past what you estimated, you could end up short changing yourself.
Running a Professional Handyman Service
With this guide on invoicing, rates, and customer management, you should be well on your way to running a professional handyman business.
Don't forget to try out platforms that offer a seamless invoicing and CMS system.
So go ahead and start designing your handyman invoice template. Then let us know in the comments which templates and tools you like the best!