You're a marketing expert that freelances or maybe you even own a small agency. Yet, getting paid on time is an issue because your invoicing system is all out of whack.
After all, you're a creative genius, not an accounting guru.
The good news is you don't have to be one, especially if you're using the right tools and tricks. You can easily automate your marketing invoices to ensure you're paid on time.
This will give you space to do what you do best – create and manage beautiful marketing campaigns.
So what do you have to do to ensure you get paid for all of your hard work?
Here's a guide on what you can do to design a professional marketing invoice for your clients.
Automating Your Marketing Invoice System
The first step to setting up your business for on-time payments is to get a quality invoicing system. This should be a platform that allows you to create, send, manage, and track invoices.
Then if it can also accept online payments, even better.
Invoicely is one platform that allows you to do all of this, plus it allows recipients to pay you online using Stripe, PayPal, and other methods.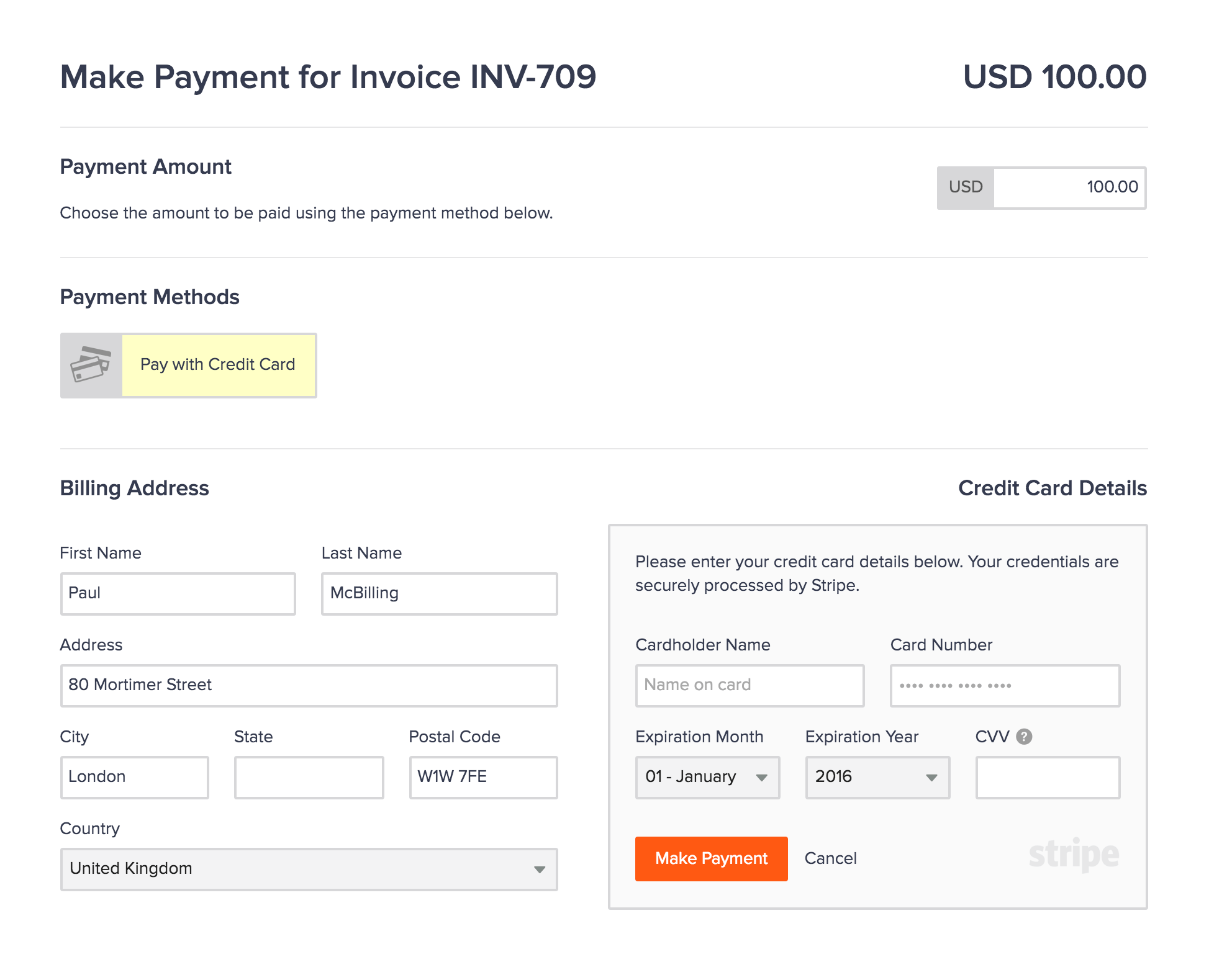 With an automated invoicing platform, you can easily set up recurring payments, set payment reminders, and obtain detailed reports about your earnings.
Creating a Professional Marketing Invoice
To begin, we're going to cover the basics that should be inside of your marketing invoice.
Ideally, you should have "Invoice" somewhere at the top. This way, your clients know exactly what the document is.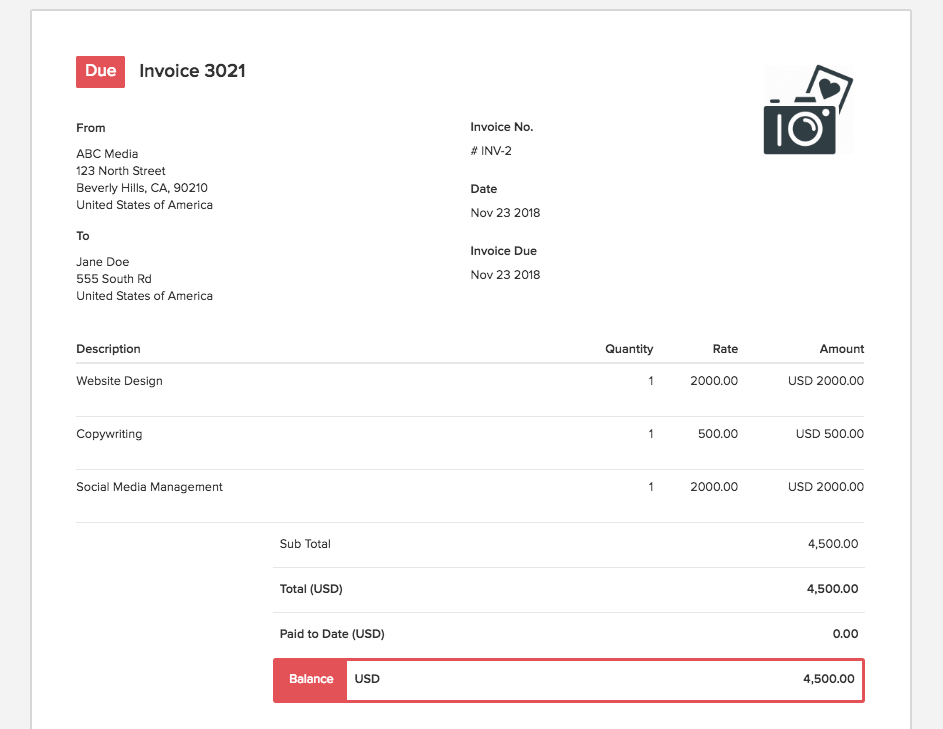 Then there should also be a date and unique invoice number, which will be forever linked to that specific bill. You'll typically find this at the top left or right-hand corner.
Beneath this area, you can have the client's name, address, and phone number.
On the opposite corner, you can place the name of your business, its logo, and contact details. This should include your address, phone number, email, fax, and any other forms of contact you want clients to know about.
Within the invoice itself, you should create a detailed list of the services you provided. Be sure to include the rates, along with the hours or quantity provided (depending on how you're charging).
At the bottom, there should be a subtotal that's highlighted or in bold for visibility. Of course, you also want to make the due date for payment visible as well.
Don't forget to include your payment terms, which we'll talk about next.
Setting Up Your Invoicing Payment Terms
Every small business should have payment terms established for clients. This is critical to ensure on-time payments to cover your business expenses.
For instance, you need to determine when you want payments. If you have an on-going project, you can choose to invoice weekly, monthly, quarterly, upon completion, or on some other schedule.
Whatever you decide, be sure to stick to it.
You may also find the need to invoice certain clients more frequently than others, depending on the project and length.
Then you have to decide how you want to receive payments. It's good to be flexible here so you won't lose prospects because of your payment options.
Again, if you use an invoicing platform, you can easily accept all credit and debit cards online. If you want to accept check or cash for local payments, you can do that as well.
Last, you need to have a debt collection policy. What are you going to do if payments are late?
It's likely to happen at some time or another so you need a clear action plan to deal with it when it does.
For example, you can have a late fee charge for payments that are past due. Or you can state that you'll take legal action after three attempts to collect.
Whichever terms you decide to have, make sure to include it in your invoice. It's also a good idea to go over this prior to taking on a project from a new client.
Performing Quality Assurance for Your Invoice
Once you design your marketing invoice, it's time do some QA. There's nothing more unprofessional than sending an invoice with typos, computational errors, or currency mistakes.
You'll even find some clients who'll refuse to pay because of such errors. So to nip this in the bud, it's good practice to edit your invoice before sending it.
This is another reason an invoicing platform will be beneficial. Once you fill out the information correctly, it saves for future use.
What you want to check before submitting an invoice is whether you're sending it to the correct person. Imagine sending an invoice to the wrong person who can now see sensitive financial data.
Also, make sure the amounts you have on there are accurate so you're not over-charging or under-charging. The currency should be accurate for your international clients as well.
Last, make sure all of your contact details are correct. This way, they can reach out to you if they have any questions (rather than tossing it in the trash).
How to Use Your Invoice to Market Your Business
You're in the business of marketing so why not put your invoice to work for your business? There are several ways you can use your invoice to market your services.
For instance, you can offer incentives to clients who refer new prospects to you. This can be a discount on their next service or even a freebie.
Then if you have a lot of happy customers, solicit them for reviews. You can then choose a testimonial to include at the bottom of your invoice.
Also, don't be afraid to announce a new service you're offering or a coupon code for a deal you're offering. Some even go as far as to include a QR code customers can scan with their smartphone to watch a promotional video.
If not a code, then a link to a brochure or free download of a report or informational guide. It's also not a bad idea to upsell or cross-sell services based on what the client ordered from you.
Be sure to ask for feedback from the customer so you can learn what they liked and disliked about working with you.
Now, besides advertising to your customers, you can use your invoice for branding. As you already know, branding is key to making a company relevant and memorable.
Here are a few tips for branding your invoices:
Bold your business name at the top right corner
Include a professionally-designed logo
Include your brand's colors in an eye-catching way
Choose a theme or template that resonates with your brand
Include social media buttons so customers can learn more or follow your brand
At the end of your invoice, be sure to include a 'Thank You' note to show you appreciate their business.
Quick Tips for Ensuring On-Time Invoice Payments
Now that you have a professional invoice to send to clients, it's time to take measures to ensure timely payment.
One way to go about this is to send out invoices at the right time. Waiting too long can cause an even longer delay. It's best to send out invoices when your project is fresh in the minds of your happy clients.
There's also certain days of the week you should avoid. Stats show Sundays are the worst day to send out an invoice. Thursdays, on the other, hand are an optimal choice for sending out invoices.
This seems pretty obvious why – most businesses aren't checking their work emails on Sundays. And a lot of businesses try to take care of emails on Thursdays before the weekend arrives.
It's also a good rule of thumb to set up short payment terms. The due date for your invoices shouldn't be any longer than 30 days.
On average, debtors tend to take about two weeks to pay invoices. This is another reason to use online invoicing to make payments easier.
If a client goes past the due date, make sure to follow up right away. Setting up payment reminders every other day or weekly (depending on your payment terms) is advisable.
Don't forget to set up recurring payment reminders and offer incentives for on-time payments.
Setting Your Marketing Business Up for Success
As you can see, it doesn't take much to create a professional invoicing system for your marketing business.
All you need are the right tools and well-planned payment terms.
Marketing is in high demand, especially with only 22% of businesses being satisfied with their conversion rates.
So make sure you're prepared to take on new clients by using these tips.
Let us know in the comments how you plan to set up your invoicing system!