Becoming a freelancer is one of the most empowering moments you'll ever have. This is especially true when you get your first paying client.
It's a great time to become a freelancer, especially with nearly 50% of millennials already freelancing.
But as your freelance business continues to grow, you'll find that keeping up becomes more and more difficult. This is the moment when you'll have to decide whether you're going to fall behind or propel ahead of your competition.
If you want to succeed, just look at the top freelancers and what they all have in common – professional tools.
With the right tools, you can streamline your efforts, whether it's increasing productivity, managing your finances, or billing customers.
Since you're only as great as the tools you use, we put together a list of 6 of the best tools for freelancers.
Let's take a look.
Some find it surprising that working from home boosts performance by 13%.
However, your productivity as a freelancer is what you make of it. If there's a way to cut down on how long you spend on certain tasks, then go for it.
It's always a good idea to find ways to streamline your day by focusing on what matters most – performing your duties.
It's hard to do this if you have to manage multiple apps, devices, and tasks throughout the day (as most freelancers do).
So first up, we have IFTTT, which stands for If Not This Then That. It's a clever tool you can use for just about everything. It helps to automate your daily tasks – both in your business and personal life.
For example, you can easily share photos and posts across all of your social media networks. If you use social networks to market your services and/or to network and engage with clients, then this will be helpful.
Another way you can use this is for your voice assistant. Then sync it across systems to enhance efficiency. For instance, you can use it to create an event on your Google or iPhone calendar.
Best of all, you can use it to track your work hours using Google Calendar. This is useful if you travel to an office outside of your home. It'll track your travels to work and dock how long you spend at the office.
But this is just a tip of the iceberg for what this platform can do.
As a freelancer, your time is your money – literally. So you can't afford to waste a minute on an unscheduled task. This is why keeping track of your to-do list is key.
It's easier to determine your duties for the day when you have a schedule laid out in front of you. This is especially helpful if you're in and out of meetings (virtually or physically) throughout the day.
With Calendly, you can easily keep track of what meetings you have and with whom. Plus, you can use this software to send a unique scheduling link to recipients.
Once they receive it, they'll see multiple dates and times to choose from based on your calendar openings. This eliminates the back and forth emails and calls trying to synchronize schedules to pull off a meeting.
Plus, you'll never have to search around for the details of a meeting you scribbled down on a post-it note that's now under a stack of papers on your desk.
This tool is valuable to freelancers that also conduct webinars, seminars, and other similar group events.
There's even payment integration with platforms like PayPal and Stripe. This allows you to collect payments upfront (i.e. if you charge for consultations or webinars).
Here's a cool tool for freelancers that's worth checking out. It can help you organize your ideas and turn them into finished products.
If you're familiar with Pinterest, then you'll find it works in a similar way. You're able to create boards and pin up your ideas. But rather than visual, it's all text-based.
This is the perfect tool for freelancers who need to visually organize their daily tasks.
But you don't have to do everything alone. You can invite your team members to see and edit the boards as projects are completed.
Name each section based on the status of a project. For example, the project roadmap can look something like this: To Do > In Progress > In Review > Editing > Completed.
Or it can be as simple as this: Doing > Done.
You can choose how you set up each section and how many pit-stops each assignment must undergo. At the end of the day, it's all about getting your concepts to the finish line.
Freelancers and small business owners are switching from paper-based invoicing to e-billing. As of 2016, it was expected that there would be a whopping 30 billion e-invoices sent each year around the world.
And who can blame freelancers? It's a cost-effective way to send invoices to clients. No more paying for paper, ink, and printer repairs.
Plus, sending out e-bills get you paid quicker since they're sent immediately. This also makes them easier to track, especially when you're using the correct tools.
One we recommend is Invoicely. With this platform, you can easily manage all of your finances in one place.
In your dashboard, you'll have access to all invoices and bills and see whether they're pending or paid for. You can also generate monthly and yearly statements, expenses and expenditure summaries, and financial reports.
It's an exceptional way to get a clear snapshot of the progress of your business financially. See how quickly your clients pay invoices and your average sales price.
Then as the years go on, you can look back to see how your freelance business has grown.
Plus, you can connect your payment platform to Invoicely, including Stripe, PayPal, WePay, and Mollie. If you own an international business, you'll be happy to know you can bill clients in any currency.
Have you ever lost a very important file or document due to a system crash? Or maybe you simply misplaced it.
Well, you never have to worry about this again when you sign up with Google Drive. This is a valuable tool for freelancers whether you have virtual or physical documents.
For the latter, you can simply scan your documents to your computer and upload them into the cloud. Cloud tools like Google Drive are vital to the sustainability of freelancers.
You can use it to backup all of your files. And once you do, you can access them from anywhere you have internet access, even your smartphone.
Speaking of mobile devices, you can use them to upload your documents as well. Easily upload a document you received via email or take a snapshot of a document you signed at a meeting with clients.
If you're just starting out, there's good news — you pay nothing for the first 15 GB of storage space.
Then if you travel a lot and are worried about losing access to files due to no internet or a bad connection, you can always turn on the off-line mode.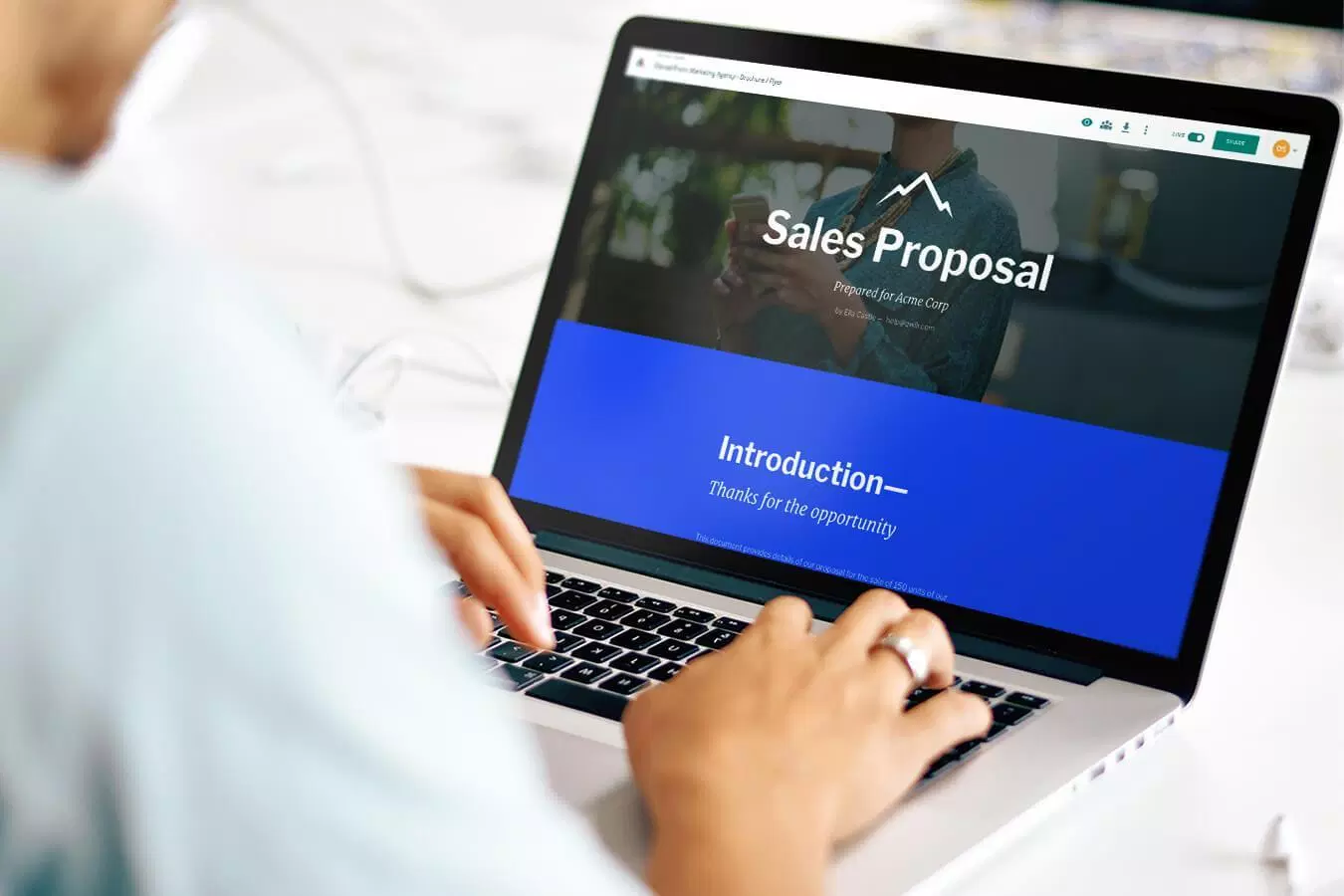 Do you find creating Word document or PDF proposals clients, cumbersome? And feel they are a bit boring and perhaps don't look that professional?
Using a business proposal template software like Qwilr will help you create aesthetic and intuitive proposal documents which you can display as a webpage. Better yet, you can embed everything from videos, spreadsheets to maps. And its jam packed with features like Digital signature capability and 1 click project acceptance – which will only improve your chances of impressing the client, and closing them.
And just in case you're feeling nostalgic, you can choose to export your proposals as an old-fashioned PDF version as well!
Making the Most of Your Time with these Tools for Freelancers
Being your own boss means you have to do a better job of managing how you spend your time and ensuring you're paid on time.
With the above tools for freelancers, you can ensure your always on the right track to success. You have tools to improve productivity, project management, invoicing, scheduling, file maintenance, and growing your business.
So give these tools a try and let us know in the comments what worked for you. If you know of any other great tools, be sure to share them with us!