One of the less attractive aspects of being a freelancer is having to search for clients and to promote yourself. Luckily, there are more and more online platforms that connect freelancers and business owners. You can check which platforms work best for you and get listed on several of them to increase your chance of finding new projects.
We've compiled a list of the top freelance platforms, so let's check them out:
1. Freelancer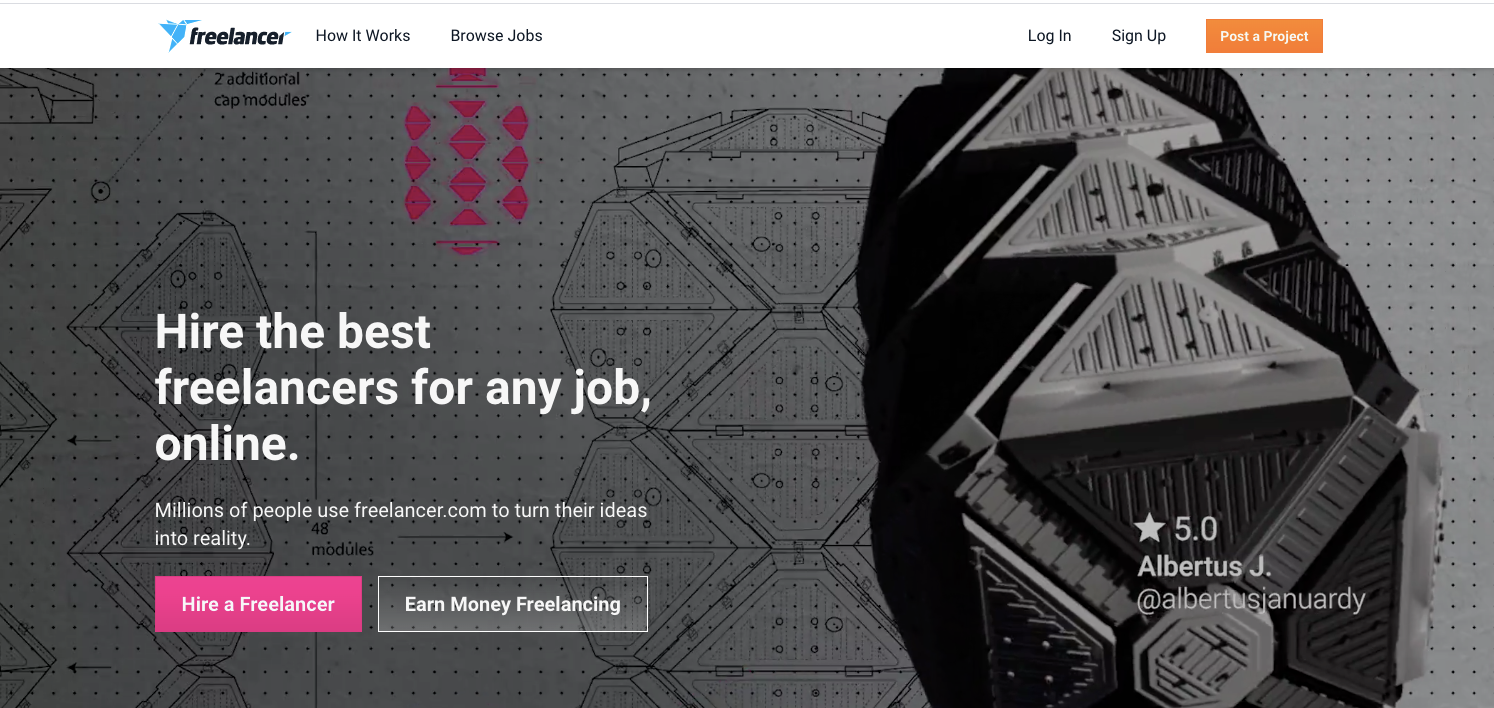 Freelancer is one of the biggest freelancing marketplaces. Every freelancer can open a free account on the platform, without having to apply for one or pass a test or an interview. Once you have an account, you can bid for the projects that you would like to work for. Free account holders can make up to eight bids a month, with the possibility to pay for upgrades if they need more bids.
For every awarded and accepted project, Freelancer charges you a fee of 10%.
Freelancer is a good choice if you don't have a lot of experience in your field and are looking for a few simple, low-paid projects to start building your portfolio.
2. Guru.com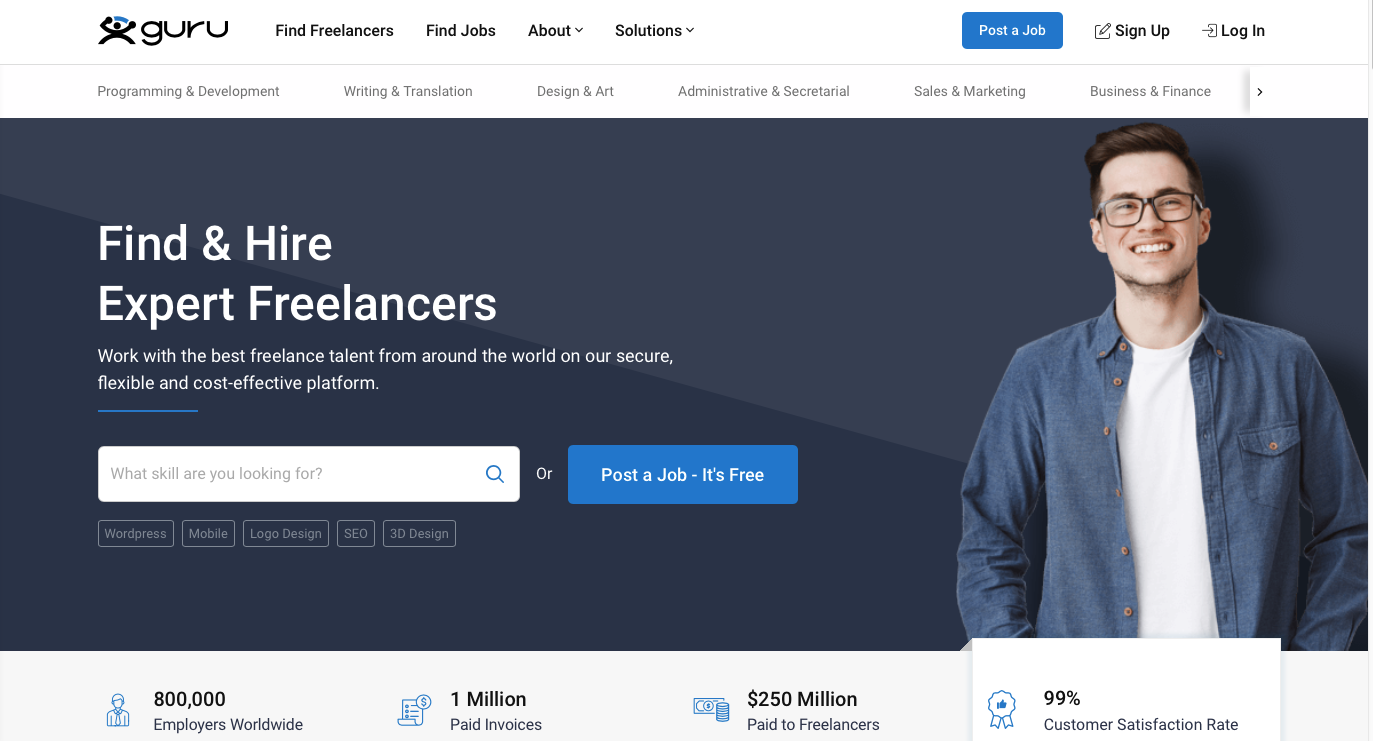 Guru offers freelancers five different monthly memberships. The most basic one is free, but only allows you 120 bids a year. If you get a job, you pay Guru a 7% fee.
At the other end of the spectrum, the executive membership costs $39.95/month if you pay annually and gives you 600 bids a year with an annual rollover of 300, a 5% job fee and some marketing features, such as the ability to add a link to your website in your profile and create premium quotes. You can also boost your ranking in the search results and send direct messages to potential employers.
The main advantages of Guru are that it has some of the lowest transaction fees among freelancing platforms (2.9%) and that it has no application process or screening, so freelancers with little experience can also register.
The main disadvantage of Guru is that if you need to raise a dispute, arbitration does not come free of charge. Both the client and the freelancer have to pay a nonrefundable fee of $25 or 5% of the disputed amount, whichever is larger. This is very detrimental to freelancers, because it is a big price to pay for a dispute over a project, if the project is worth $100 or less. Additionally, if the arbitrators decide that the client is right, you lose both the money for the project and the arbitration fee.
3. Upwork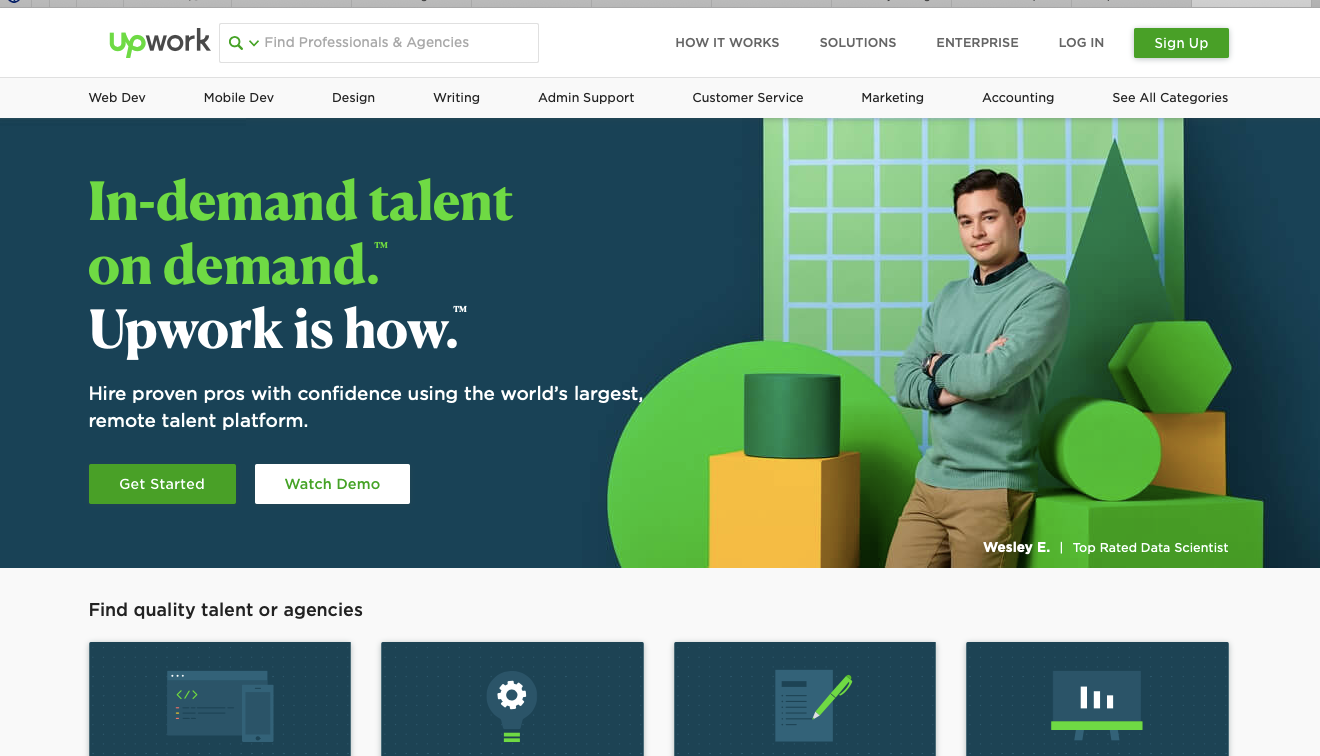 To register with Upwork, you need to submit an application and this will be approved or rejected depending on the current need for your skills. For example, if you are a digital marketer and there are more active digital marketers registered on the platform than available projects, your application might be rejected.
If you applied successfully, you can complete your profile and Upwork will highlight the jobs most suited for you. Additionally, you can look for projects yourself and you may also receive client invitations.
Upwork provides an online workspace for you and your client, that enables you to securely send and receive files and other digital assets and communicate via text, chat and video.
All invoices and payments happen through Upwork and your work is protected by the Upwork Payment Protection, making sure that you get paid for your successfully completed projects.
Upwork charges freelancers a 20% fee, which decreases the more your work with the same client. More exactly, after the first $500 billed with a client, Upwork charges you 10% for the projects with that client and after you bill a client $10,000, you will be charged 5% for the subsequent projects with that client.
4. Fiverr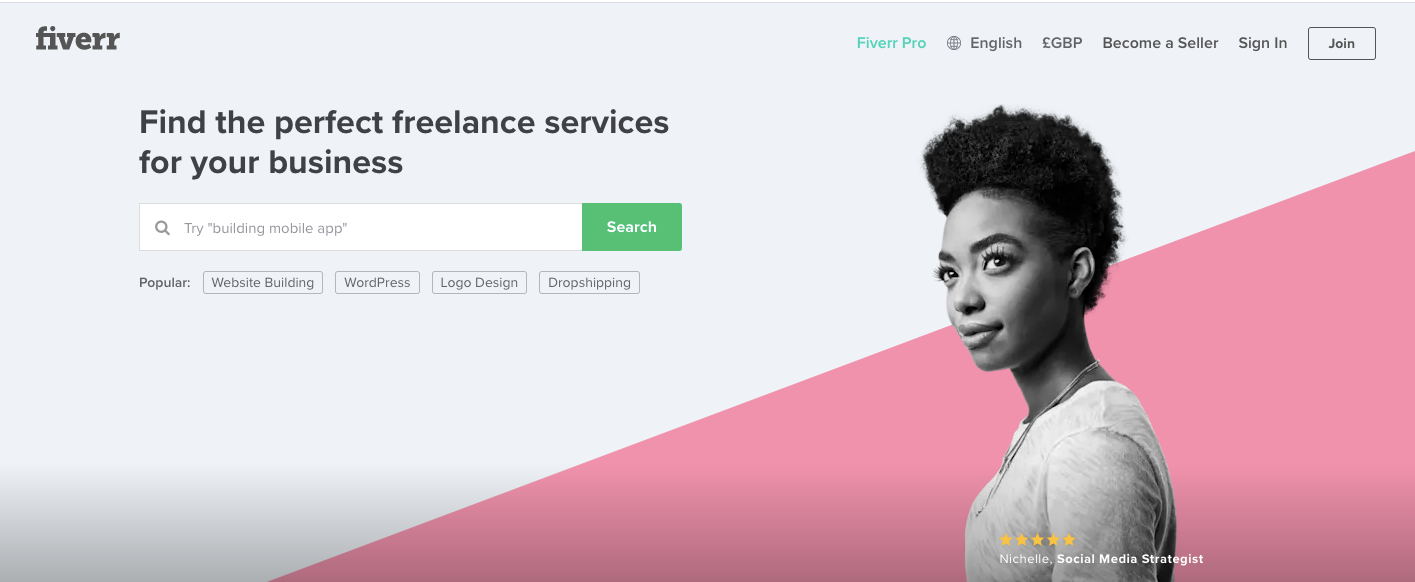 Fiverr is one of the largest marketplaces for digital services and could be a good launching pad for entry-level freelancers.
In order to offer your digital services on Fiverr, you need to create a seller profile.
Then you can create a gig (the service that you intend to sell) and provide all the information your potential clients need in order to decide whether to do business with you. You can also add a video to your gig to increase your chance of attracting attention.
Another way of selling your services is through packages, which give you the possibility of offering three different bundles on your gig page.
In order to increase your chance of getting a project, you can submit customized offers to buyer requests.
When a buyer places an order, they pay Fiverr. When you complete the order, 80% of the funds are assigned to your account (Fiverr retains a 20% commission), but will remain in a "pending" status for 14 days, after which you will be able to withdraw the money.
While Fiverr might help beginner freelancers get their first projects and create a portfolio, because of its low prices it may not be the best platform for experienced freelancers.
5. AnyTask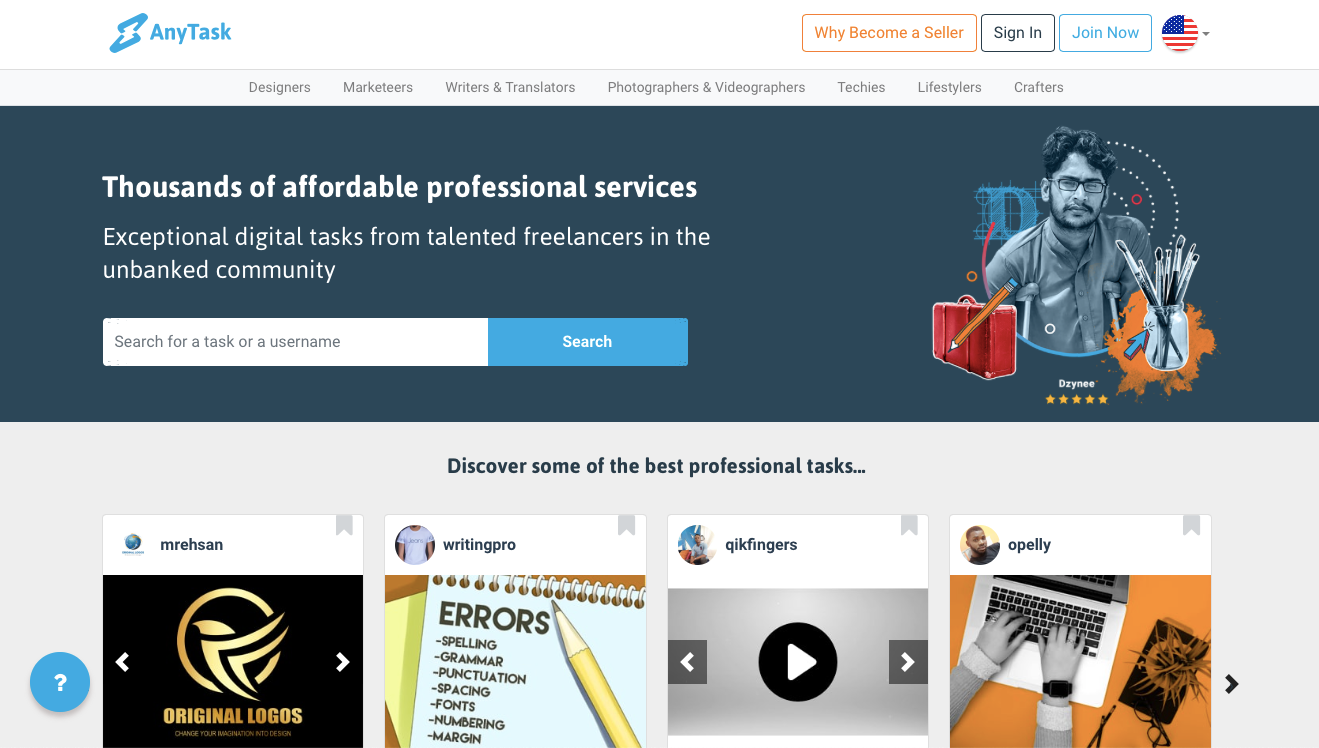 AnyTask is a newer freelancer platform.  What is different about this platform is that you can register and offer your services without providing any debit or credit card details. Payment is taken from the buyer's card and is delivered to you in a cryptocurrency called Electroneum (ETN), so you don't even need to own a bank account. You can spend ETN in many different ways or convert it into your desired currency with an exchange agent.
There are no seller fees on AnyTask, instead the buyer is charged 6% of the project cost.
6. Truelancer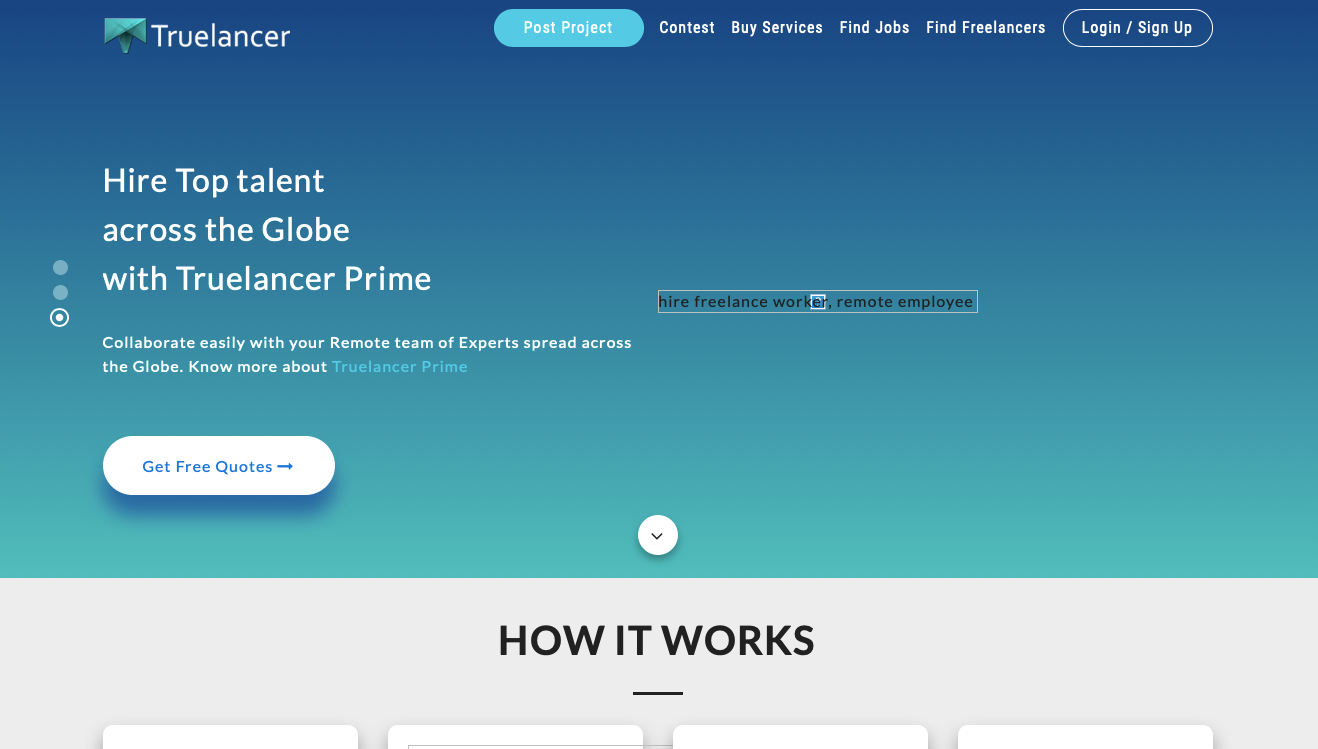 Truelancer offers freelancers four monthly plans - a free basic one and three paid ones for $5, $10 and $50 per month respectively. A free account holder can apply for a maximum of 20 proposals per month and you are limited to projects of up to a maxim value of $70.
With a $5/month paid plan, you can send up to 50 proposals a month for projects up to a value of $375 and you get more portfolio slots and can add more skills to your profile. The $10 and $50 plans give you 100 and 150 proposals per month respectively, a lower project fee of 8%, access to projects of any value and other features, such as access to prime projects, priority support and express withdrawals.
7. Giggrabbers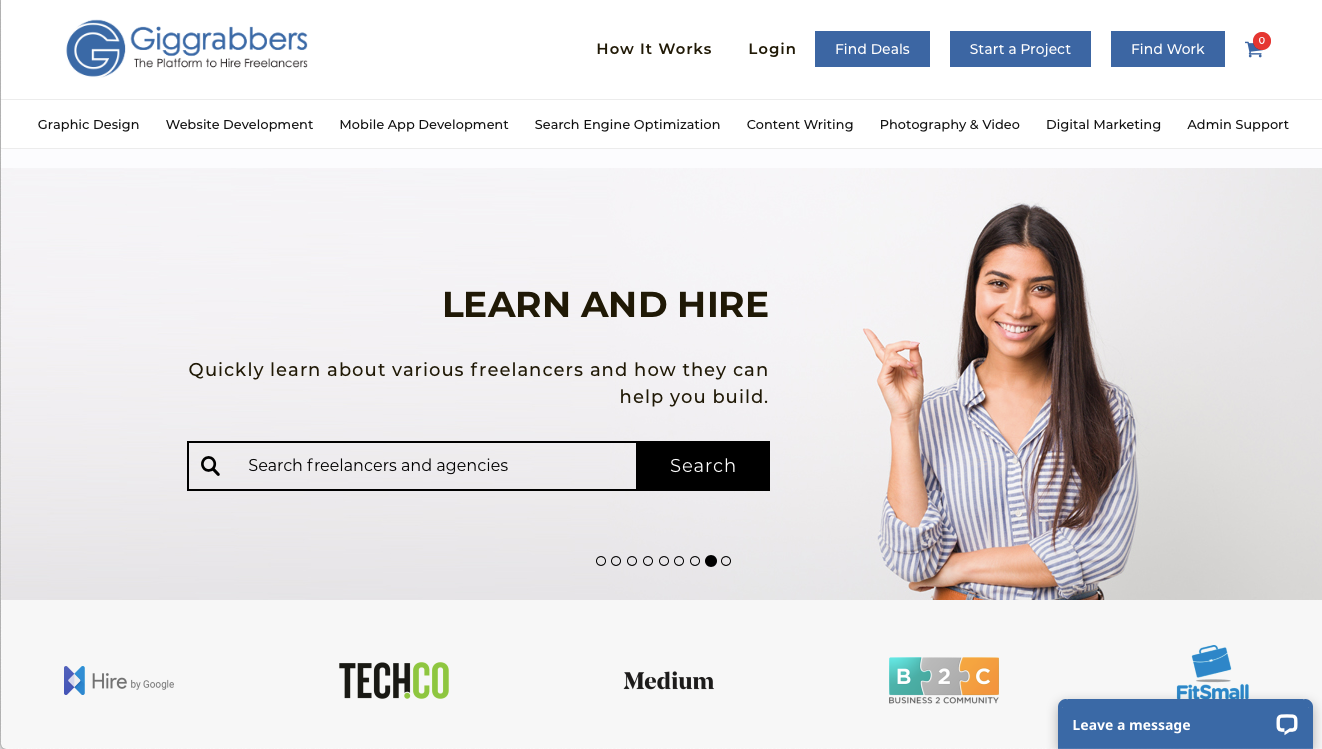 On Giggrabbers you can find find projects in online marketing, SEO, website development, mobile app development, content writing, graphic design, photography and video.
You can create an account free of charge on the platform and browse the available projects, but if you are awarded a project, you must pay a fee of 9.5% of the total cost of the project.
You can withdraw your earnings using PayPal or (only in the US) Venmo.
8. PeoplePerHour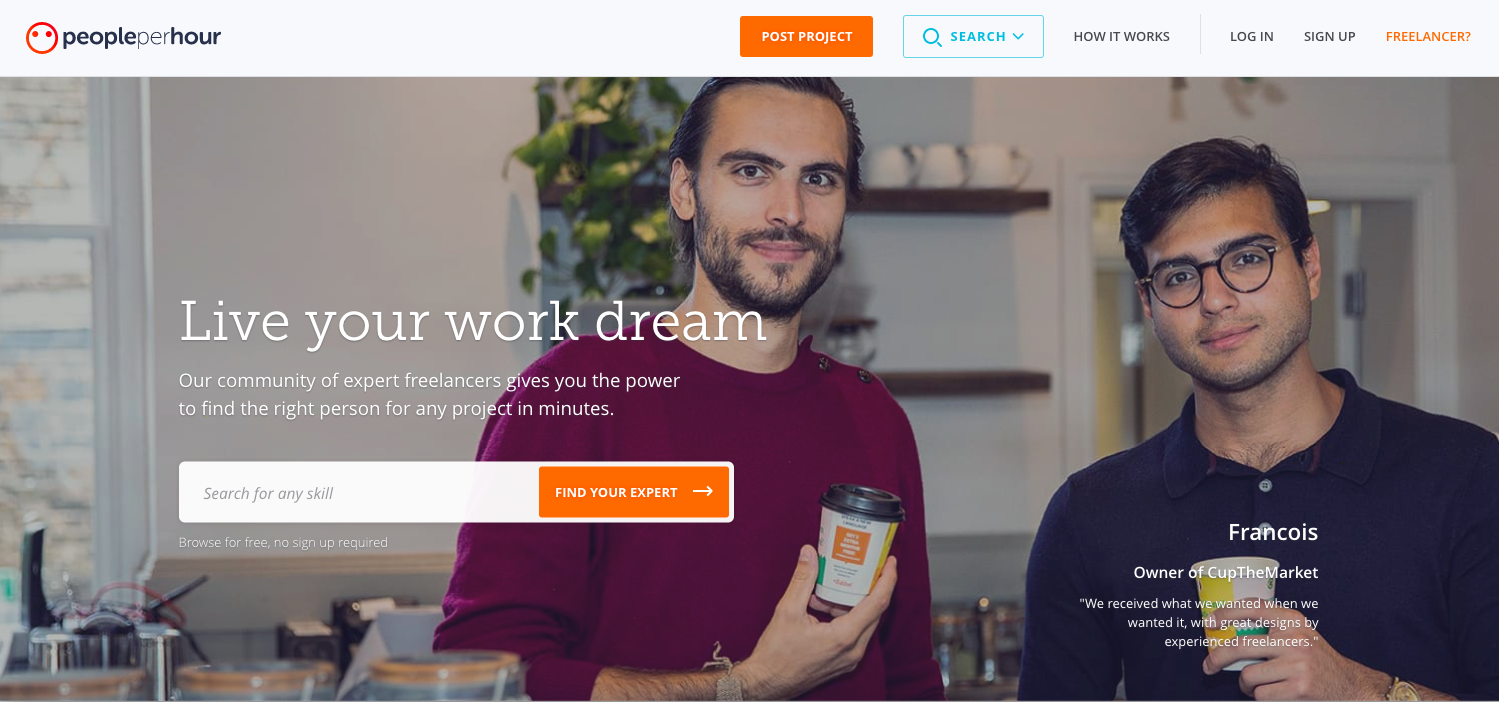 In order to create a profile on PeoplePerHour, you need to complete an online application, which will be reviewed by a moderation team, to ensure that only the best freelancers are matched to client projects.
After approval, you will gain access to a stream of projects from international clients.
You can create a profile on the platform and detail your career experience and skills and show examples of your work in your portfolio. The artificial intelligence system will match you to the most suitable projects based on your profile.
You can also search for projects manually or save automatic searches to receive notifications when new projects are listed. When you find a project you would like to work for, submit a proposal. You can send 15 proposals per month for free, in order to be able to send more, you need to buy additional credit.
If a client chooses you for a project, they will pay a deposit into an escrow account, which will be held safe until you complete the project and send an invoice. PeoplePerHour charge a fee of between 3.5% and 20%, depending on the total amount of money you have billed a buyer across all their projects. This means that the more you work with the same client, the less commission you pay PeoplePerHour.
Your clients review you after each project. Freelancers who are consistently rated highly will receive higher rankings and increased visibility on the platform.
9. FreeUp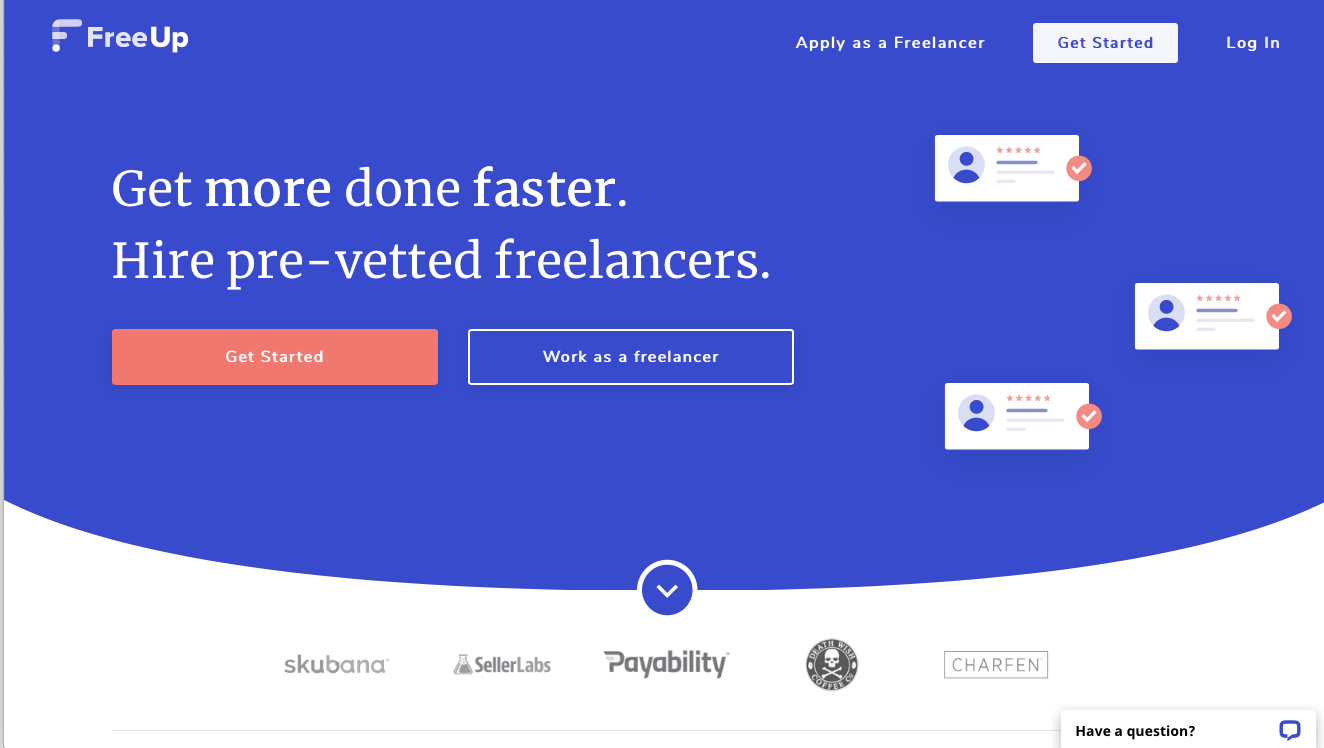 FreeUp connects business owners with freelancers in a wide variety of domains, such as bookkeeping, social media management, SEO, customer service, digital marketing and many more.
FreeUp boasts 24/7 support for freelancers, as well as webinars, a Slack workspace and other resources.
With FreeUp you choose the hourly rate you want to bill a client, and FreeUp charges the client that amount plus 15% commission. Payment is released every two weeks.
In order to use FreeUp's job platform, you need to apply and be approved. First, upload your CV and fill out the questionnaire. Then, if your application is approved, you will be invited to a Zoom interview. After the interview, you can start applying for freelancing jobs on the platform.
If you need to write a professional-looking invoice for a freelancing project, use the invoicing platform invoicely. You can also create and send quotes in it and transform them into invoices with a click if they are accepted.
Wth invoicely you can write invoices in any currency and it also enables you to track time, expenses and mileage. Your clients can pay directly from the invoice, by clicking on the desired method of payment. On invoicely's dashboard you can see all your finances at a glance and check which invoices have been paid and which ones are overdue. You will receive a notification when the client has received your invoice and you can set up automatic payment reminders.