Starting a freelancing career is easy – maintaining one…not so much. This is especially true if you're not very organized or are easily distracted.
Working from home and/or on the internet makes staying on track even more difficult. But lucky for you, there are tools you can use to become a more productive freelancer.
Time tracking apps are one of the most popular ways to manage your time as a freelancer. Some even come with features that allow you to block specific sites that distract you throughout the day.
If you're not already using them or feel like you don't need to, then this article is for you. Let's take a quick dive into the various apps you can use for freelance time tracking.
Why Use Time Tracking Apps?
The American workforce is shifting. By 2020, an astounding 43% of Americans will be freelancing and another 63% say they choose working from home over having a traditional job.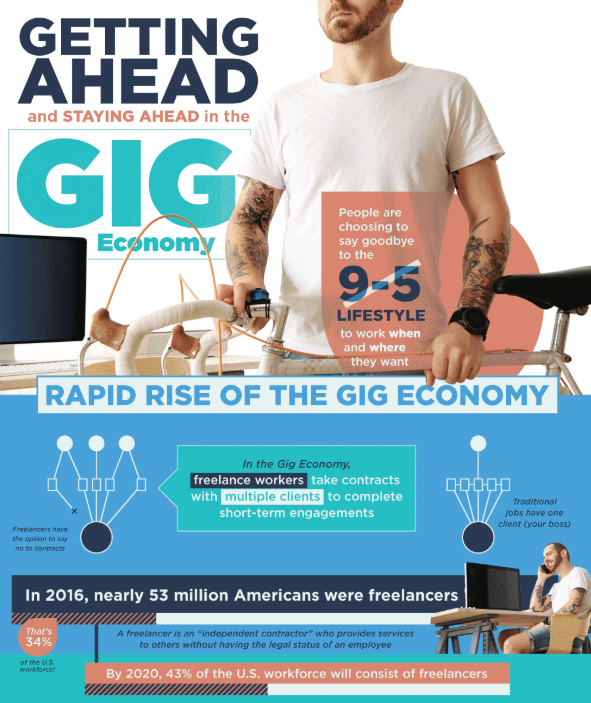 But when you become a freelancer, you're responsible for setting your rates and ensuring you're paid as agreed. One way to do so is to send your clients invoices.
If you charge by the hour, the right app can make freelance time tracking seamless.
Not only will it make your invoices more accurate. But it'll also help with your productivity. You don't want to overcharge customers because you're calculating distracted minutes (or hours) into your billable hours.
But even if you don't charge hourly, tracking your time spent on projects can make you more efficient.
Once you see where all of your time's going each day, you can make better business decisions. For instance, you may find you need to charge more for projects that take you longer than expected (or vice versa).
So here's a review of some of the most reliable time tracking apps freelancers (and their teams) can use.
If you're looking for a lightweight app you can use to track time, Everhour is great. Not only is this a web app, but it's also a browser extension.
You can also find this integrated with other web apps. Ideally, this is the app you should use if you have a team. It allows you to easily monitor and manage team availability.
It also syncs with other productivity apps you use, such as Asana. For instance, it'll sync the projects you have on that platform so it shows up in Everhour.
Then you can include a timer inside the web-based app you're using to record how long you take on each project. You're able to start time, stop time, edit time, and add estimate.
On top of all this, you and your team can enter how many hours you're available for the week. Plus, you can keep a log of scheduled time off.
Everyone can see each other's availability and see who's underworking and overworking.
If you're a solo freelancer, you can expect to spend $96/year (appox. $8/mo). Then for freelance teams, it's $7/mo per person (w/ a $35/mo minimum).
Maybe you're a freelancer on a tight budget. If that's the case, you can opt for a free-for-life app like Due Time Tracking.
This is an unobtrusive app that enables you to keep track of your working hours. It does this effectively by automatically detecting idleness.
You just start your work timer and it'll stop on its own if it detects you're no longer worker. Then you can use the app to generate invoices based on how many hours you've worked.
It even takes it a step further by allowing you to manage your clients' details, such as their name, address, currency, and hourly rate.
Here's another freebie app you can use for freelance time tracking. You can give it a test run using the trial version.
Then if you feel it's right for you, you can continue using it free of charge. Otherwise, you can expect to pay $7/mo for basic, $10/mo for pro, and a custom price for enterprise.
What makes this a great tool is that it has automatic time tracking. This means that it will track your time from task to task.
It'll even gather data in real time and generate reports based on what areas you're most/least productive. These analyses are in-depth, which can help you identify time-consuming activities.
Also, you can create projects that are divided into smaller tasks.
This app is available on both mobile and desktop devices.
Tracking your expenses and creating invoices with tools like Invoicely is easier when you're using the Harvest app. This is available on smartphones (Android and iOS), Windows, MacOS, and as a web browser extension.
While you can use it as a solo freelancer, it's designed for collaborating with a team. So if you have a team you're working with or managing, then you'll find this app to be a time saver for keeping track of productivity.
Everyone can install this app on their mobile device or desktop and works both online and offline. There are even reminders sent out to the team to submit their timesheets.
Then the manager can edit, review, and approve them for payment.
Speaking of payment, Harvest has a free account for solo freelancers but also has paid accounts that cost $12/mo for a solo account and $12/person for 2+ people teams.
This app was created by a freelancing network so you know the freelancer was in mind during its design. This tool is absolutely free and comes with all capabilities, no limitations.
You can specify which tasks to track and how often. It comes with features like timers, webcam shots, and screenshots.
It works on mobile and desktop devices, including OSX, Windows, and Linux.
Freelancer time tracking is made easier with Hubstaff. This is free to use, but does come with paid versions. The basic account is $7/mo and $10/mo for the premium account.
In this platform, you're able to take screenshots of activity and create weekly, daily, and calendar timesheets. Plus, you can easily add and schedule projects.
It's important to note that some of the features aren't available in the free version. So give it a test drive to see if it's worth paying the monthly fee.
Sometimes, you need to visually change the way you manage your time. And that's exactly what you can do with HourStack.
This time tracking app is unique in how it displays your schedule. Instead of lists and calendars, it shows your tasks in time blocks.
Each task sits in a time block based on how much time you anticipate it to take. It's an excellent app if you're looking to plan your time in advance so you meet deadlines.
Other features it has include adding labels, color-coding tasks, and setting times for your workday. Once you go into overtime, the time worked shows up in red at the bottom of your screen.
And you get a mobile notification (if you have the app installed).
The plans for this app begin at $7/mo.
This app is suitable for freelancers who don't work solely online. It's one of the best time trackers for offline use and it comes with a one-time fee of $47.
The design of this app is clean and professional, making it ideal for those who like to see their progress in charts and graphs. It enables you to turn on and off the syncing, which is perfect if security is an issue.
It comes with a timer you can use to track time based on projects and clients. There's also idle detection that subtracts time spent on a project when you stop working.
If you're getting pulled away due to calls, emails, or children, then this will come in handy.
This is the perfect name for an app designed for busy freelancers who toggle between tasks and projects. It's a simple-to-use app that makes tracking time quick and seamless.
Toggl creates reports that's easy to understand, which can be delivered right to your email. These include deep insight into how your business is doing.
It also tracks your activities in real time – just be sure to turn it on.
If you're on the forgetful side, you can always set up a work time to ensure it's on during your work hours. You'll find this app great for boosting productivity, given all the features it provides.
This app is $9/mo for Starter, $18/mo for Premium, and custom pricing is available for Enterprise.
Becoming A More Productive Freelancer With Time Tracking Tools
One study shows that working from home boosts productivity by 13%. Imagine how adding these apps into the mix will boost your production rate.
Running your own business can be liberating, but only if you know how to create a work-life balance. Too many freelancers spend way too much time on projects and not enough time with family.
But whether you're looking to better manage your time to create more free time or earn more money, these apps will help.
If you're already using time tracking apps (or other methods), let us know in the comments how well they're working for you!