We're happy to announce that invoicely was named FrontRunner for Recurring Billing Software by Software Advice.
FrontRunners is designed to help small businesses evaluate which software products are right for them. FrontRunners is published on Software Advice, a leading online service for businesses navigating the software selection process. FrontRunners evaluates verified end-user reviews and product data, positioning the top scoring products based on Usability and Customer Satisfaction ratings for small businesses. FrontRunners for Recurring Billing Software is available here.
Methodology

The FrontRunners methodology uses recent, published user reviews to score products on two primary dimensions: Usability on the x-axis and Customer Satisfaction on the y-axis.
Data sources include approved user reviews, public data sources and data from technology vendors.
Products can receive a maximum score of 100 on each axis. Products that meet a minimum score threshold for each axis are included as FrontRunners. The minimum score varies by category so that no more than 25 and no fewer than 10 products are included as FrontRunners. No product with a score less than 60 in either dimension is included in any FrontRunners graphic.

For the products included as FrontRunners, the Usability and Customer Satisfaction scores determine their positions on the graphic.
As you can see in the image below, only the top-scoring products appear in FrontRunners graphics.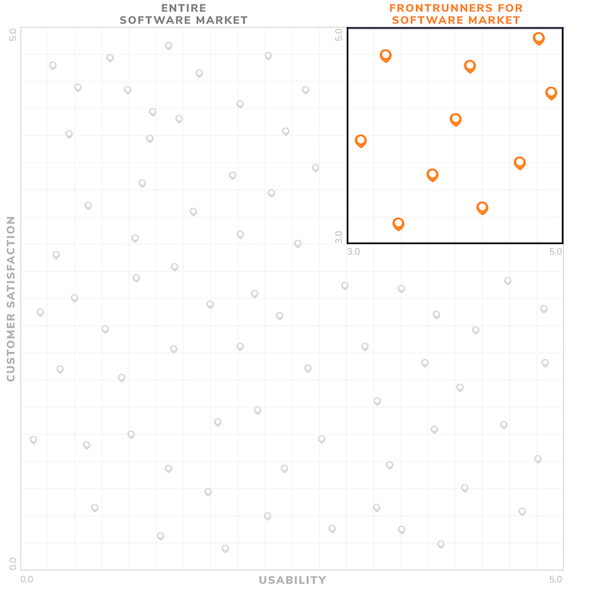 About invoicely

invoicely is an intuitive online invoicing tool that helps you create beautiful, professionally-looking invoices in just a couple of minutes. You can easily add sales tax, shipping costs, and discounts to any invoice.

invoicely has multi-currency support and accepts online payments. The app offers many features and automations, such as automatic payment reminders, recurring invoices, automatic receipts, custom notifications as well as time, expenses and mileage tracking

With invoicely you are always informed of the state of your finances with dynamically generated reports, monthly and yearly statements, income and expenditure summaries and accounts receivable and payable.
To see if invoicely is the app for you, you can set up a free basic account here.
Disclaimer: FrontRunners constitute the subjective opinions of individual end-user reviews, ratings, and data applied against a documented methodology; they neither represent the views of, nor constitute an endorsement by, Software Advice or its affiliates.