In order to survive on the market, a business needs a constant flow of money. This means that your work isn't done after you have provided your services. Now you need to make sure that you're going to be paid for these services, by issuing invoices to your customers and monitoring their payments.
Timely payments are especially critical for small businesses and freelancers and it's exactly these types of companies that are most often paid late. The freelancer platform YunoJuno reported that as many as 41% of the freelancers in the United Kingdom are consistently paid late. Freelancers spend in average 20 days a year chasing non-paying clients, according to the British Association of Independent Professionals and the Self Employed. The situation is similar in the US and other countries.
A first step to getting paid is issuing an invoice for your services and sending it to the customer. Needless to say, the earlier you send the invoice, the sooner you are going to be paid.
What information to include in an invoice
In order to make payment easier, your invoice needs to be clear and simple and contain all the necessary information. Any missing or confusing information will lead to delays in payment.
Here is what you need to include in an invoice:
1. Heading
Identify your invoice with the heading "Invoice", so that the customer can differentiate it from a receipt or a quote at a glance.
2. A unique invoice number
Use a unique serial number for each invoice, in order to easily identify it. You must keep a record of your invoices for bookkeeping and tax purposes and using a sequential numbering system makes it easy to track them in the future. Make sure you check your invoice records before numbering every new invoice, so that there are no duplicates or gaps in the sequential invoice numbering. You can also use letters as a prefix or suffix to your invoice number.
If you use an online invoicing tool, it will automatically create sequential numbers for your invoices according to your criteria and you won't need to check which number you're at for every new invoice.
3. Your company name, address and contact information
Write your company's name and address, as well as contact information, such as telephone number and e-mail address, on each invoice. You can also include the name of a contact person. This way, the recipient will know immediately who has sent the invoice and they will also have your contact details ready in case they wish to raise a query or a dispute. Making it easy for the client to contact you increases the likelihood of a prompt payment.
4. The customer's company name and address
It is standard procedure to write the client's name and address in the invoice. In the case of a company, you can also add the name of the contact person, to make sure the invoice gets to the right person as soon as possible.
If you use online invoicing, you just need to enter the data for each customer once and then you can save it and add it to each new invoice instead of writing it again.
5. The date of the invoice
This is the date when the invoice was issued. It shouldn't be confused with the supply date, which we discuss below.
6. A clear description of what you're charging for
Write a list of the services or products that you are invoicing for, including quantities and individual prices. Write each item in a separate line, for more clarity.
7. The supply date (the date the goods or services were provided)
This is the date when the services or the goods you are invoicing for were delivered to the client. It is not the same thing as the invoice date.
8. The total amount owed
This is the total sum that the client owes you for the items listed above. If you negotiated any discount, don't forget to take it into consideration at this step.
9. VAT amount if applicable
If you're VAT registered, you need to include VAT information, such as your VAT registration number, the VAT rate(s) for the invoiced items and total amount of VAT charged. You can find more information about when and how to issue VAT invoices in your country on official government websites. If you live in the US, you can find more information in this guide for indirect taxes and if you live in the UK, you can read this VAT guide provided by the government.
10. Payment terms
Some freelancers and companies don't write any payment terms on the invoice. This is a mistake, since the lack of a deadline often leads to delays in payment. It is better to include a deadline in the payment terms such as "Payment 30 days after invoice date" and you can even offer a small discount for early payment, such as "1% discount if payment received within ten days otherwise payment 30 days after invoice date". If you have a deadline written down, you can refer to it in your reminders or in the case of a dispute regarding late payment.
11. How to pay the invoice
If you include in the invoice the methods of payment that you accept, the client might pay you sooner, especially if you also include your bank details, in case you accept bank transfers. Making it easier for the client to pay will also get you paid faster.
If you choose to send the invoice through an online invoicing tool, these offer several payment methods and the client can pay directly from the invoice by clicking on the desired payment method, such as PayPal or credit card. This is sure to speed up the payment process.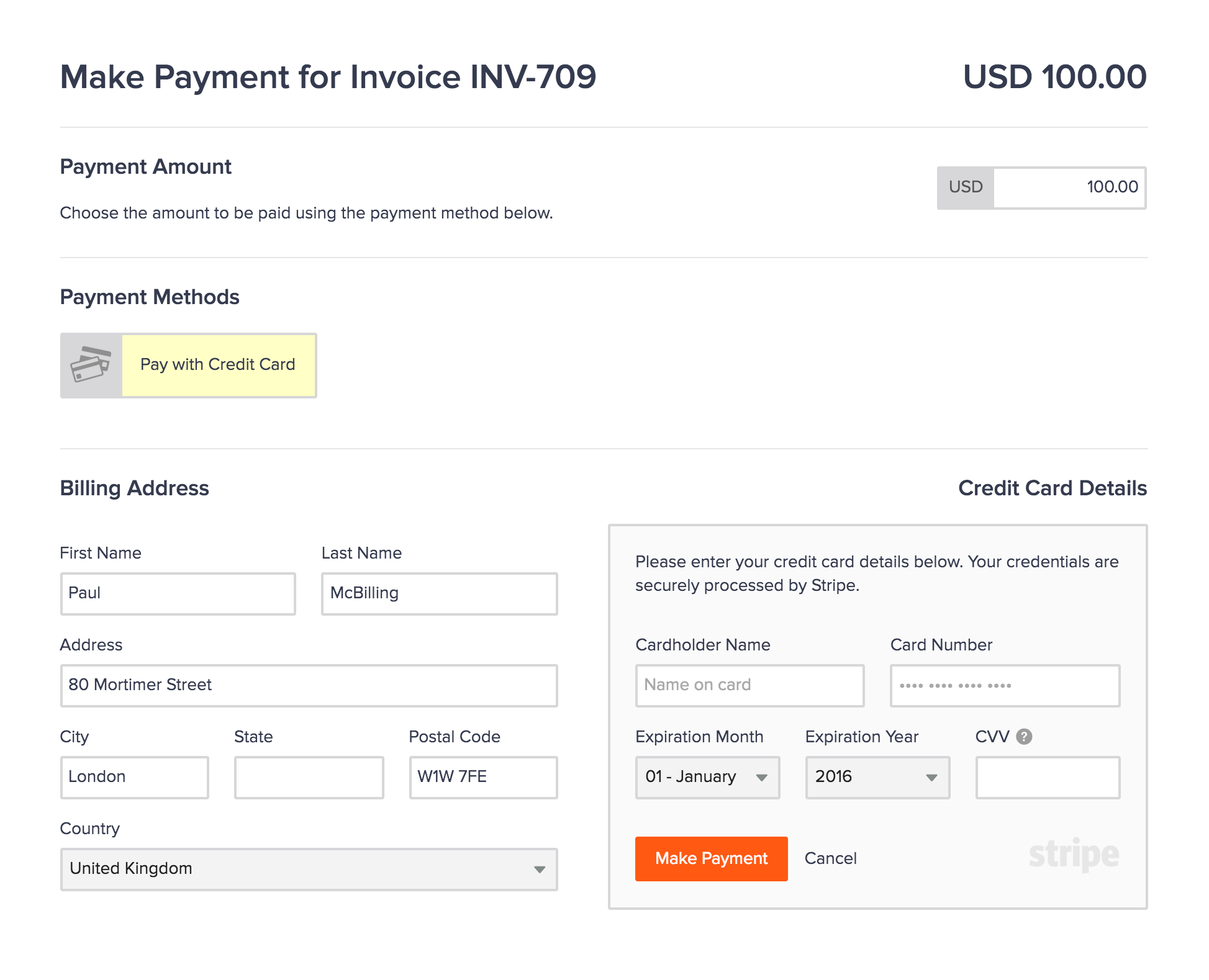 12. Business logo
You can choose to customise the invoice with your business logo, if you have one. Doing so reinforces your brand in the customer's mind.
13. Purchase order number
If available, you should also include the purchase oder number. This allows your customer to easily identify the purchase and connect it to the invoice.
How to send the invoice
If you want to increase the chance of your invoices getting paid on time, you should stop sending them by email (we assume you have stopped sending them by post a long time ago) and use an online invoicing tool instead.
invoicely is an invoicing platform that offers a free plan with lots of features for freelancers and small companies, which can be upgraded as your company grows. invoicely enables you to create a professional-looking invoice in less than a minute. When you send an invoice with invoicely, the app notifies you when the client receives the invoice and when they make the payment, so you don't need to call and ask them and they also can't tell you that they haven't received the invoice yet. You can also set automatic payment reminders to be sent to the clients, so you can take your mind off the matter and focus on your core business.
invoicely has a user-friendly dashboard, which shows you all your sent invoices at a glance, and you can easily see which ones are outstanding and which ones are overdue. You can also generate reports with just a few clicks.
You can test these features now by signing up for a free invoicely account and creating an invoice.